Dillon Carmichael Talks 'Hell on an Angel' & Favorite Song To Wake Up To
If you're a country music fan, you will definitely want to get yourself acquainted with Dillon Carmichael (if you haven't already). The up-and-coming country star recently released his debut album, Hell on an Angel, on which he worked with acclaimed producer Dave Cobb (who has produced albums for stars like Chris Stapleton and Zac Brown Band).
For Carmichael, music runs in his blood as his father and uncles were in a Southern Gospel Quartet. Hell on An Angel was recorded in the famous Studio A in Nashville and features ten songs including singles like his latest, "Dancing Away With My Heart." The Kentucky native explained to iHeartRadio of his debut album:
"I wrote eight out of ten songs on Hell on an Angel, and I named it that because it sounded cool, sounded badass, so we went with it. I recorded the album with Dave Cobb. So, that was awesome. Dave was my dream producer and it was just a dream; the whole scenario. The studio we recorded in, the band, just all the people. It was a good hang, it was a good vibe. It was the historical Studio A at the RCA building. It was just a dream come true."
While 2018 saw the release of Hell on An Angel, fans can look forward to seeing Carmichael on the road — and he promises a big hug to all of his fans. He tells us, "Fans can look forward to a tour; the tour dates are rolling in. We're gonna be everywhere. We will be in your city most likely, so we'd love to see ya. And I'll make sure to come out and give you a big hug if you do."
Dillon also played a game of "Me vs. Drunk Me" where we presented him with several situations and he explained whether they were more Dillon or Drunk Dillon. He revealed his go-to karaoke music, his favorite place to stop for a late-night snack, what song he used to wake up to every day, and so much more. Read on below.
When you stop for fast food past midnight:
"Drunk me stops after midnight. I would say I like Taco Bell a lot, even though I haven't had Taco Bell in a long time."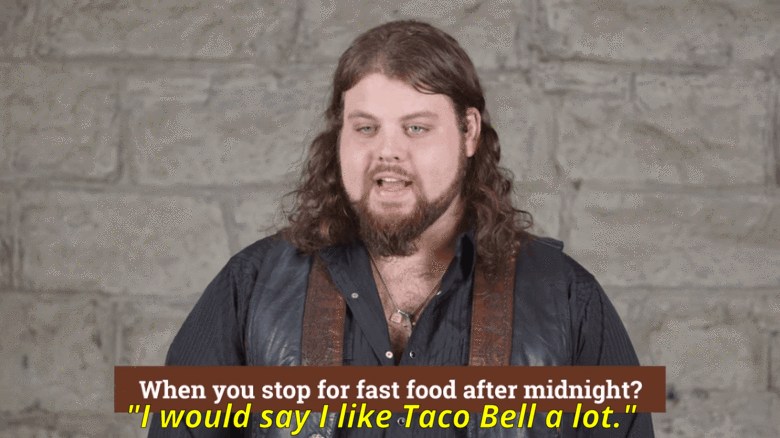 When you hit the mic at karaoke:
"Normal me, I love karaoke. I pull it up on YouTube in the truck when I'm on the road. I sing karaoke all the time. I like singing Keith Whitley, a lot. I like sing Keith Whitley karaoke."
When you find random money or objects in your pocket:
"That's definitely regular me, because I leave stuff everywhere all the time. Actually, I found 50 dollars in my pocket earlier. Look ... Oh, well that's $10. I just found $10! I found that earlier one of pockets, and to me, it's a good thing, because I didn't even know it was missing!"
When you set absurd alarms for the following morning:
"It's probably regular me. And at one point, it was an Eminem song, because it just got me hype. I like Eminem. So, I woke up to Eminem for a long time."
When you make friends with complete strangers:
"When I make friends with complete strangers, it's definitely drunk me, because I'm not very social."
When you fall asleep on the way home (and you're not driving):
"See, when I fall asleep on the way home, but I'm not driving, I'd say that's probably both, drunk and regular [me], because for what ever reason, when I'm in a car, on an airplane, lately, I just fall asleep. Because I don't get much sleep."
When you're buying rounds of drinks for everyone:
"I'm gonna say probably the regular me buys drinks for everybody, 'cause I like to buy everybody drinks on a regular basis."